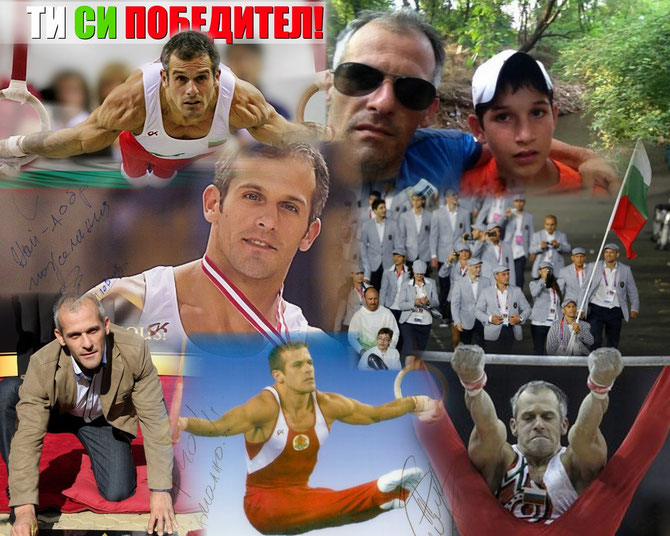 Yordan Yovchev
-
Bulgarian gymnast
Yovchev was born in Plovdiv, Bulgaria. He won silver in the men's rings at the 2004 Summer Olympics in Athens with a score of 9.850. In the same Olympic Games, Yovchev won bronze in the men's floor exercise with a score of 9.775. In the 2000 Olympics in Sydney, Australia, he won the bronze on both floor exercise and still rings with 9.787 and 9.762 respectively. He also won two World Championship Bronze medals in the all around (1999, 2001).
Yovchev made his fifth Olympic team for the Beijing Olympics in 2008, and qualified again for the Rings exercise. He qualified second with a score of 16.275 under the new scoring system, but missed a handstand and finished the final in last place with a score of 15.525.
He has competed in many SASUKE tournaments, reaching the final stage in the 8th competition; he did not pass the spider climb in the first 15 seconds, so the walls spread apart and he fell. He is the only competitor to not pass the spider climb in this version of the final stage, other than Shingo Yamamoto who did not complete it due to injury, but his early failure could be attributed to the heavy rain during the entire competition. Since then he has not passed the third stage.
In 2009, he was elected president of the Bulgarian Gymnastics Federation.
Yordan Yovchev qualified and participated in the 2012 Summer Olympics in London, which was his 6th appearance at the Olympic Games, a record for a gymnast, He was also his country's flagbearer during the opening ceremony.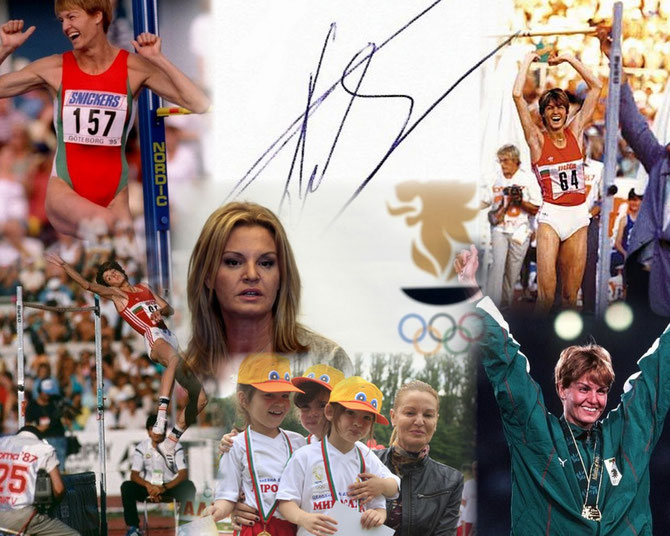 Stefka Kostadinova
Stefka Kostadinova (born March 25, 1965 in Plovdiv) is a Bulgarian retired athlete and the current women's world record holder in the high jump. She is the current president of the Bulgarian Olympic Committee.
Kostadinova is the reigning world record holder in the women's high jump at 2.09 m, which she jumped during the 1987 World Championships in Rome. Her world record is one of the oldest in modern athletics. Altogether Kostadinova set seven world records - three outdoors and four indoors. She also holds the women's world record for having jumped over 2.00 m 197 times.
Kostadinova won the gold medal in the 1996 Summer Olympics in Atlanta, setting an Olympic record of 2.05 m. She also won a silver medal at the 1988 Summer Olympics in Seoul. Kostadinova won the outdoor World Championships in 1987 and 1995. She won the World Indoor Championship five times between 1985 and 1997. Kostadinova also won gold in all European Championships in Athletics which she competed. She was a European outdoor champion in Stuttgart in 1986 and a four-time European indoor champion in 1985, 1987, 1988, and 1994.
Kostadinova was voted Sportsperson of the Year in Bulgaria four times (1985, 1987, 1995 and 1996).
After retiring Kostadinova started a career in sports administration. She has served as vice president of the Bulgarian Athletics Federation, vice president of the Bulgarian Olympic Committee and was deputy sports minister of Bulgaria from 2003 through 2005.
On November 11, 2005 Kostadinova was elected president of the Bulgarian Olympic Committee.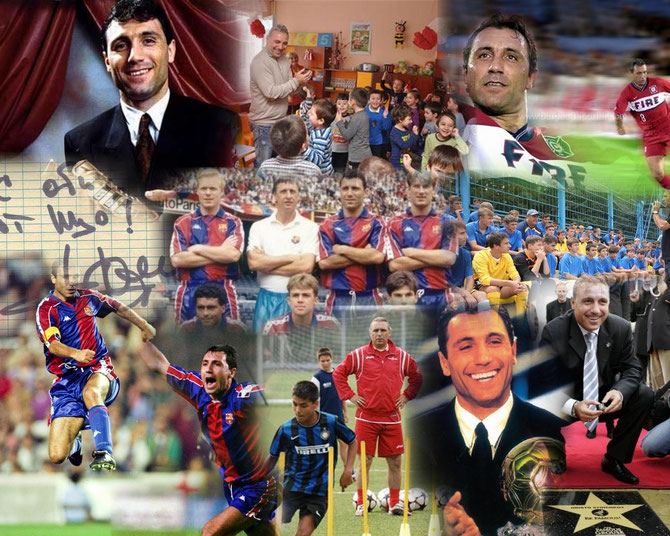 HRISTO STOICHKOV
Hristo Stoichkov  born 8 February 1966 in Plovdiv is a retired Bulgarian footballer. He is regarded as one of the best footballers of his generation and the greatest Bulgarian footballer of all time. Nicknamed The Dagger (Камата), The Dog (Кучето), The Modern Left (Модерния ляв). At Barcelona he earned the Spanish nickname 'El Pistolero' which translates to 'the gunslinger'. He was a member of the Bulgaria national team that finished fourth at the 1994 World Cup, of which he was the top scorer with 6 goals. Apart from his footballing talent, he was notable for his on-pitch temper. His awards include the European Golden Boot, the Ballon d'Or, the World Cup Golden Boot and the World Cup Bronze Ball.
Stoichkov began his career in his hometown, moving to Hebros in 1984. The next year he went to CSKA Sofia. There, he was involved in a fight during the final of the 1985 Bulgarian Cup which resulted in an original lifelong ban, which was eventually reduced to a month suspension. After he was brought back to football, he managed to win the European Golden Boot with CSKA by scoring 38 goals in 30 games. He then moved on to FC Barcelona, where he was part of Johan Cruyff's 'Dream Team', Stoichkov helped Barcelona to one of the most successful eras of the club, winning the Primera Division four years in a row between 1991 and 1994 and the European Cup after defeating Sampdoria in 1992. During his stay in Barcelona, he had become an idol for the club's fans, and was Barça's most popular player at the time, having earned a place in the supporters' hearts much like Johan Neeskens and Diego Maradona in the past. In Barcelona Stoichkov played in tandem with Romário.
 In 1994, he was named European Footballer of the Year after leading his national side to the 1994 World Cup semi-finals.
At the 1994 World Cup, Stoichkov was awarded the World Cup Golden Boot as the joint top goal scorer of the tournament (with Oleg Salenko), with six goals, as well as earning the Bronze Ball award. chkov was the only player to score from a free kick (against France) in this tournament.
He was also part of the squad that was eliminated in the first round of the 1998 World Cup. Bulgaria was not nearly as strong as in previous years, earning only one point in a 0–0 draw against Paraguay and scoring only one goal through Kostadinov in a 6–1 defeat by Spain in the so-called "Group of Death".
Stoichkov retired from internationals in 1999 with 37 goals in 83 appearances. Subsequently he was the coach of the Bulgarian national team from 2004 to April 2007.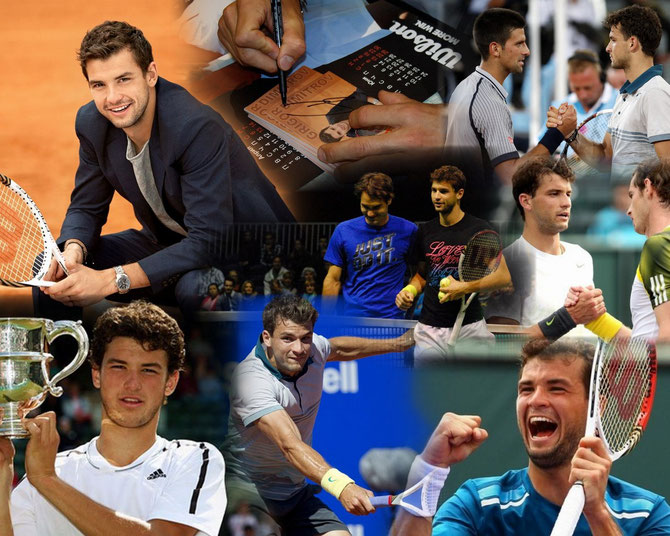 GRIGOR DIMITROV- BULGARIAN TENNIS PLAYER
Began to play tennis at age five...Nicknamed G-Force, Dimi, PT (Prime Time)...Only child of father, Dimitar, who is a tennis coach, and mother, Maria, who is a sports teacher and former volleyball player...Speaks Bulgarian and English...Considers favourite shot backhand down the line and favourite surfaces are hard court and grass...Ambition is to be World No. 1...Idol is growing up was Pete Sampras...Hobbies include cars, computers and watches...Compiled outstanding junior results, finishing as No. 3 junior in world in 2008...Captured Wimbledon and US Open junior titles and advanced to QF at Roland Garros in '08...In '07, reached Orange Bowl final in Miami (l. to Berankis)...Coached by Mikael Tillström, Magnus Norman and Nicklas Kulti at Good to Great Tennis Academy (Sweden).
2013-Dropped one set en route to his first ATP World Tour final at Brisbane (l. to Murray)…Rose from World No. 48 to No. 41 on 7 January...
In Rotterdam, in QFs versus Baghdatis, the Bulgarian won 18 straight points from 5-6 second set (5-6 serving game to love, TB 7-0, 0-0 serving game to love, streak ended after 0-40 in Baghdatis' first service game in the third set)…Won 63 in third set…Lost in SFs to del Potro…
Fell in ATP World Tour Masters 1000 Indian Wells 3R (l. to Djokovic)…Fell in ATP World Tour Masters 1000 Miami 3R (l. to Murray)…In doubles, with Nielsen, lost in ATP World Tour Masters 1000 Miami SFs (l. to Fyrstenberg-Matkowski)…Beat Tipsarevic in ATP World Tour Masters 1000 Monte-Carlo 1R; became youngest QFs since Querrey (20) in 2008; in his first ATP World Tour Masters 1000 QF became just the third player in six years to win one set off Nadal at Monte-Carlo…
On 7 May, secured biggest win of his career at ATP World Tour Masters 1000 Madrid, beating World No. 1 Djokovic in three-set win in 2R…
2012 -- The No. 1 Bulgarian finished in Top 50 for 1st time in his career, highlighted by a personal-best 24 match wins and 3 SF results, at London/Queen's Club on grass (l. to Nalbandian) in June and back-to-back in Båstad (l. to Ferrer) and Gstaad (l. to Bellucci) on clay in July (won 11 of 15 matches)...In Grand Slam play, reached 2R at Australian Open (d. Chardy, l. to Almagro in 5 sets), Roland Garros (d. Young, l. to Gasquet)
and Wimbledon (d. Anderson, l. to Baghdatis)...Compiled records of 10-11 on hard, 8-5 on clay and 6-3 on grass. Went 1-7 vs. Top 10 opponents and posted 1st win over No. 7 Berdych in Miami en route to 4R (l. to Tipsarevic), his best ATP Masters 1000 result...Earned a career-high $413,047... 
2011 -- The 3rd-youngest player in Top 100 (behind Tomic, Harrison) and top player from Bulgaria finished a year-end best No. 76, highlighted by 3 ATP World Tour QF showings on as many surfaces, in Munich (l. to F. Mayer) on clay, Eastbourne (l. to Tipsarevic) on grass and Bangkok (l. to Murray) on hard...Won a personal-best 18 matches and compiled marks of 11-16 on hard, 4-4 on grass and 3-5 on clay…Went 0-4 vs. Top 10 opponents…Earned a career-high $388,370...In early season Challenger action, won title in Cherbourg and finished with 6-2 mark...
2010 -- The young Bulgarian was youngest player at 19 years, six months to finish in Top 125 at a year-end best No. 106…Early in season won three Futures titles, two in Germany and one in Spain…Then between Aug. 23 and Sept. 26, won three straight Challenger titles at Geneva (d. Andujar) and two more in Bangkok (d. Kravchuk and d. Kudryavtsev)…After three events climbed from No. 245 to No. 136…In October, reached final at Orleans in France (l. to Mahut)…Compiled a 40-31 Challenger match record…In only ATP World Tour play outing at Queen's, reached second round (d. Bogdanovic, l. to Lopez).
2009 -- Granted wild card in Rotterdam (d. Berdych; l. to World No. 1 Nadal 75 36 62)…Wild card at Marseille (l. to Simon 7-5 in third set, having served for match at 5-3)…Reached Queen's Club 2nd RD…As wild card at Wimbledon retired with knee injury versus Kunitsyn…Wild card at Bastad…In September, won first Challenger doubles title (w/Gabashvili) at Trnava…
2008 -- Won three Futures title at Barcelona and Madrid…First ATP match at 's-Hertogenbosch (d. Andreev) in June…Won junior Wimbledon and US Open titles…Earned wild card at AMS Madrid (l. to Serra in 1st RD)…Also a wild card in Basel…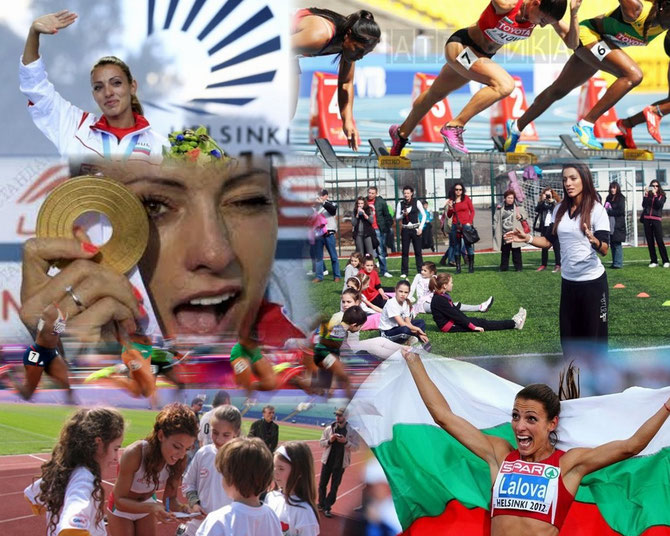 IVET LALOVA
Ivet Lalova ( born 18 May 1984 in Sofia) is a Bulgarian athlete who specialises in the 100 metres and 200 metres sprint events. She is the tenth fastest woman in 100 metres history, and is tied with Irina Privalova for the fastest time by a sprinter not of African or African-American descent.[1] She finished fourth in the 100 metres and fifth in the 200 metres at the 2004 Summer Olympics. Her career was interrupted for two years between June 2005 and May 2007 due to a leg injury. In June 2012 she won Gold at the 2012 European Athletics Championships in Women's 100 metres.
Childhood and junior
Lalova's parents, Miroslav Lalov and Liliya Petrunova, were sprinters. Miroslav was the Bulgarian 200 metres champion in 1966. Lalova began competing in swimming and gymnastics at age 10, and soon switched to track and field. She became the Bulgarian Youth champion in the 100 metres competition in 2000, and placed fourth in the 200 metres at the 2001 IAAF World Youth Championships. At the 2003 European Athletics Junior Championships, she won both the 100 metres and 200 metres events.
On 19 June 2004 in Plovdiv, Lalova tied Irina Privalova as the sixth fastest woman in 100 metres history, recording a time of 10.77 seconds. At the 2004 Summer Olympics, she placed 4th overall in the women's 100m competition, and 5th in the 200m. At the 2005 European Athletics Indoor Championships, she was awarded a gold medal for her time of 22.91 seconds in the 200m.
Femur injury[edit 
On 14 June 2005, Lalova's career was interrupted when she broke her right femur after a collision with another athlete while warming up for the 100m sprint at the Athens Super Grand Prix. In June 2006, the Bulgarian Olympic Committee awarded her the IOC "Sports and Fair Play" prize for her conduct in the aftermath of the incident, when she declined to seek compensation from her fellow competitor or the event's organizers.
Lalova was appointed to the European Athletic Association Athletes Commission for 2006–2010 following an election held in August at the 2006 European Athletics Championships.
Return to racing[edit source]
Lalova returned to competitive racing on 29 May 2007, at the Artur Takač Memorial in Belgrade, winning the 100m in a time of 11.26 seconds. In August 2007 she reached the quarterfinals of the women's 100m sprint at the IAAF World Championship in Osaka but failed to progress, finishing in fifth place with a time of 11.33 seconds.
Ivet Lalova at the 2009 Berlin Championships
At the 2008 Summer Olympics, Lalova was eliminated in the semifinals of the Women's 100m, finishing her heat in seventh place with a time of 11.51 seconds, and was eliminated in the second round of the Women's 200m.
In March 2011 she moved to Italy, joining the group of Professor Roberto Bonomi. Later in 2011 she started her season with 11.08 and 22.66 and after a week won the 100m Diamond League event in Oslo with 11.01 (2.1 m/s). After another week she ran the second best time of her career - 10.96 s (+0.8 m/s wind) during the Balkan Championships in Sliven, Bulgaria.
At the 2012 European Athletics Championships in Helsinki, Lalova ran the distance in 11.06 during Round 1, setting the leading European result of the year so far. She went on to win her heat in the semifinals, as well as the final on 28 June, beating Olesya Povh and Lina Grinčikaitė for her second career gold medal from a major championship.
At the 2012 Summer Olympics in London, Lalova finished second in her heat during the quarterfinals on Women's 100 Metres, equaling her season best of 11.06. She was eliminated in the semifinals, where she ran the distance for 11.31, finishing 6th in her heat and 19th overall. At the 200 metres distance she finished 5th in her heat with a season-best time of 22.91. In the semifinals she ran the distance for 22.98, finishing 6th in her heat and missing on a place in the final.
In December 2012 Lalova opened her own sports club under the name Ivet Lalova Sprint Academy, meant to help amateur, children, youth and professional athletes in Bulgaria.
In her first 2013 IAAF Diamond League appearance, Lalova finished third in the 200m sprint at the Golden Gala in Rome, with a personal season-best time of 22.78 (+1.2 m/s). This was also the best time for a European athlete so far throughout the year.